A quick update. I'm in Grants NM at the TravelLodge ($49 +tax and I sat in jacuzzi for a while.
I've been pretty good about just eating the food I packed for the trip, I broke down and got some taquitos with fresh (and moderately spicy) salsa from Laguna Burgers.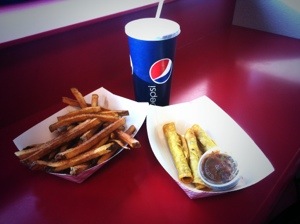 I am spending money way too fast and realized I could have planned things a bit better to only need motels for two nights instead of three. With the cost of gas and the fact that I need to make it back across the country in a couple of weeks, I need to be *very* careful about how I spend money when with people in CA and on my way east.
Still and all, the trip is going well. Though I still wish I had someone with me to make it more of an adventure and also wishing for more camping, especially now that I'm under huge open vast skies.