This morning started with my portable coffee station: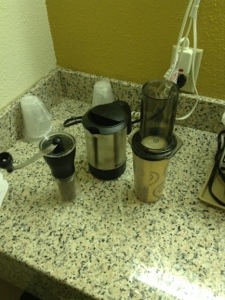 Not pictured are the coffee beans that I ground fresh. Yeah, I've become *that* guy.
Also, here is a quick video update that I can't figure out how to embed on this page using my iPad can be found here.
I am at the Economy Express Inn in Henryetta OK. Getting an early bedtime. I'd like to get an early enough start tomorrow that I can camp out tomorrow night – which I'll probably only do if I get within 6ish hours of Phoenix so I can get to Joya's late afternoon on Tuesday.
Anyhoo, that's it for me for today.
Aloha.